FABTECH 2022 is Open this Week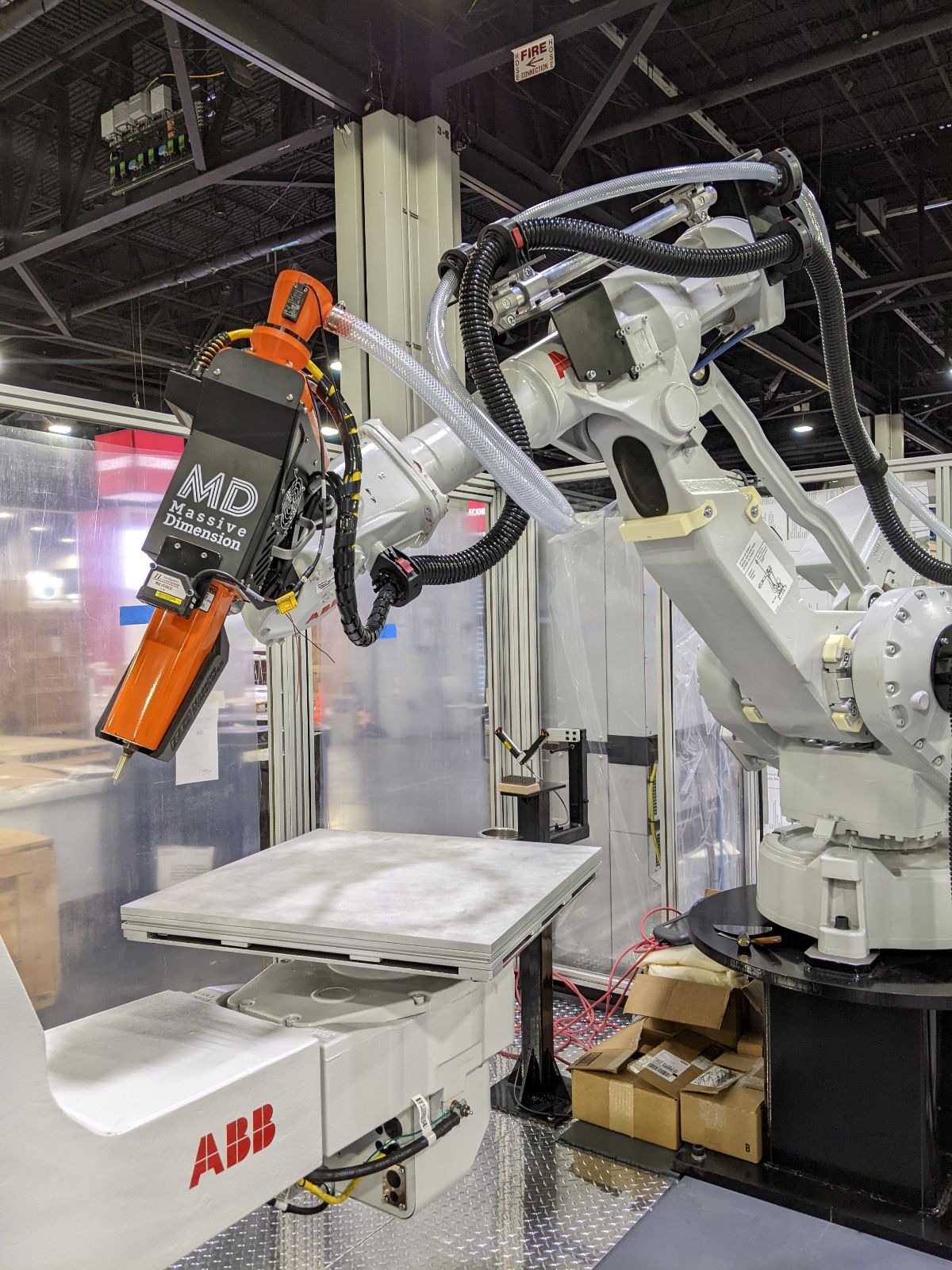 The FABTECH exhibition has rolled into Atlanta, Georgia from November 8th until the 10th.  This southern city is nearly half a million residents strong and the Georgia World Congress Center is a world class exhibition hall that attracts big names in manufacturing. FABTECH is North Americas largest show dedicated to fabrication technologies. This year's conference and exhibition is all about robots for use in metal forming, fabricating, welding, and finishing.
ABB and Massive Dimension Combined Display
This is a great opportunity to highlight the partnership between Massive Dimension's 3D filament extruders and ABB's industrial robotics.  With a shared booth (#C 10937) and 1000 square feet, there's plenty of room to showcase the advantages of marrying a heavy duty extruder to a robotic work platform.
Optimization of 3D Printing
In addition to the usual multi-degree-of-freedom robotic arm, it is easy to see the square print bed.  Not only does the print bed rotate but it can also tilt.  These advantages really matter when printing something with a nominally round cross section as it optimizes the motions required to 3D print the object, by minimizing the required motions of the robot arm.  This can speed up the print time significantly.
Contact Us or Stop By
If you are an automation professional and are anywhere near Atlanta in the next few days it's the perfect time to stop in and see the current technologies in action.  The exhibit halls are divided into different section depending on their particular focus for this show and conference.  You will find Massive Dimension and ABB together on the borderline of the Robotics and Industrial Automation section.  Stop buy, see robotic 3D printing in action and get to know us a little better.  You just might find the tools to improve productivity, increase profits and discover innovative new solutions for your business.
---