Review of 2022: A Look at the Past and Future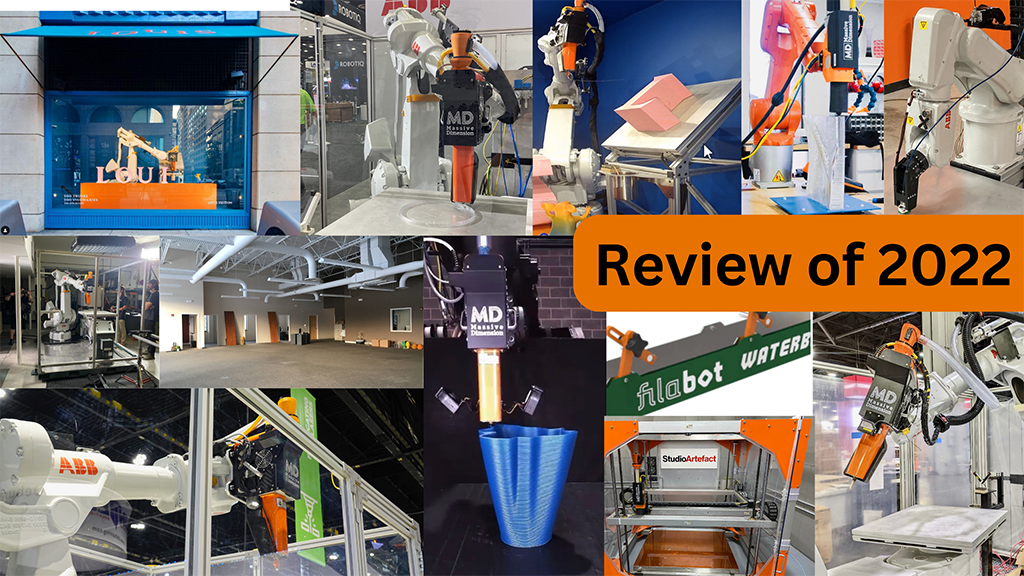 It's that time of year again, 2022 is coming to an end and we are looking forward to 2023. This year was packed with all sorts of new things. New projects, opportunities, products, and great fun! Overall COVID was less of an issue this year compared to 2020 and 2021. While still something to navigate through, there was a general sense of relief in the wake of this pandemic and people were feeling more connected. 
In 2022 our team focused heavily on bringing large format printing solutions to our customers. Our robotic program at Massive Dimension revolved around connecting the software, hardware, and processes. All elements were integrated to ensure a seamless experience for our customers. MD products are production quality ready for customers to plug in and print. We started this focus at the end of 2021 where we attended Fabtech in conjunction with ABB to demonstrate our robotic printing cell. Continuing though this year we solidified our ABB partnership by presenting a print cell at ABB booths at Automate, IMTS, and Fabtech 2022. Each show allowed our team to advance the technology and marry the robotics aspect into the additive technology. At Fabtech 2022 our team demonstrated simultaneous 8 axis printing. This was achieved by using an IRB 4400 robot and a two part positioning system.  
In furthering our relationship with ABB, Massive Dimension successfully became a designated Value Provider Channel Partner – the only additive manufacturing company to have achieved this designation. This was a lengthy process where ABB evaluated our technical competence, financial operations, and technology to make sure our company operated at a high level of quality and that we would be able to uphold the Value Provider requirements. As the only additive manufacturer to have achieved this status from ABB we are excited to see what opportunities arise from this relationship.  
On another note about ABB we successfully installed extruders on the full range of robots that they offer. From the small ABB IRB 120 to the largest ABB IRB 8700, our extruders are producing prints for the whole robotic range of ABB. The ABB IRB 120 utilizes our smallest extruder, actually a filament extruder system. This setup is geared towards new users who want to learn how to work with robotic printing systems before moving to the larger robots. At the other end of the spectrum, the ABB IRB 8700 robot has a reach of over 6.4m (21ft). It's a monster of a robotic arm.
For Massive Dimension products we launched several new solutions. Most notably, the robotic printing cells are now standard builds with turnkey options for customers who want to get started printing large objects right away. The MDPE50, a 50lbs per hour output system has been developed and is launched for pre-order. This system will give way to very large prints for customers who require high output. Another new product series was the incorporation of new build surfaces; we now have a modular build surface, a large 3ft x 5ft build surface; and a 1000mm round build surface for rotary positioner printing. All build surfaces are heated to ensure no warping of prints. We added new nozzles for increased printing capabilities, evaluated and worked with new robotic printing software, and have a new "Industrial Series" systems line that has increased wear performance for demanding applications.  
Our highest profile public project was the installation of an additive robot at the Louis Vuitton 200 Trunks, 200 Visionaries Exhibit in New York City. From the first contact to printing, the elapsed time was 19 days. Our team worked around the clock to make this happen and we could not be prouder of this installation. This robot 3D printer prints "LOUIS" one very large letter at a time. Each letter takes about 3-5hrs to print. Once printed the letters are placed on a stand for display. The innovative setup for this printer was a slanted build platform that allowed for viewers on the street to see the letters while they were being printed. It's a great and engaging introduction to robotic additive manufacturing in a very public setting. 
Within the Filabot product line we launched the Filabot Waterbath. An accessory device that uses water for filament cooling. Compared to the Filabot Airpath that uses air to cool extruded filament, the Filabot Waterbath has a higher cooling capacity and is tailored towards high temperature filament and high output extrusion. Another key product launch for the Filabot product line is the introduction of the Filabot EX6 Industrial Series, this line features nitrated barrels and screws for use in applications where high wear additives are being used.  
Operationally we expanded our offices spaces into a new facility, while our warehouse stayed in the previously occupied building. We are moving the last few items now into adjacent warehouse space allowing our whole team to be working in one space. We now have room to stretch our legs and work on larger projects.  
Looking into 2023 we are very excited for the upcoming projects and products in our roadmap. On the Massive Dimension side we will be adding products focused on part production, multiple nozzle setups, automated build platforms, subtractive manufacturing methods, and a host of other accessories to increase the capabilities of both the Filabot and Massive Dimension lines for our production customers. Most importantly we have a key focus area of recycling post-consumer and industrial polymer waste. To that end we will be bringing to the product line, reclamation equipment, dryers, and re-crystallizers to enable our customers to participate in building the "circular economy" and reducing waste.  
In closing, 2022 has been a productive year. We are thankful for our amazing team who made this happen, our customers who utilize our products, and the opportunities that we find ourselves working on. From our team to you and your family, have a great holiday season, and a Happy New Year!    
---