Introducing MDAC1 - Our Latest Innovation!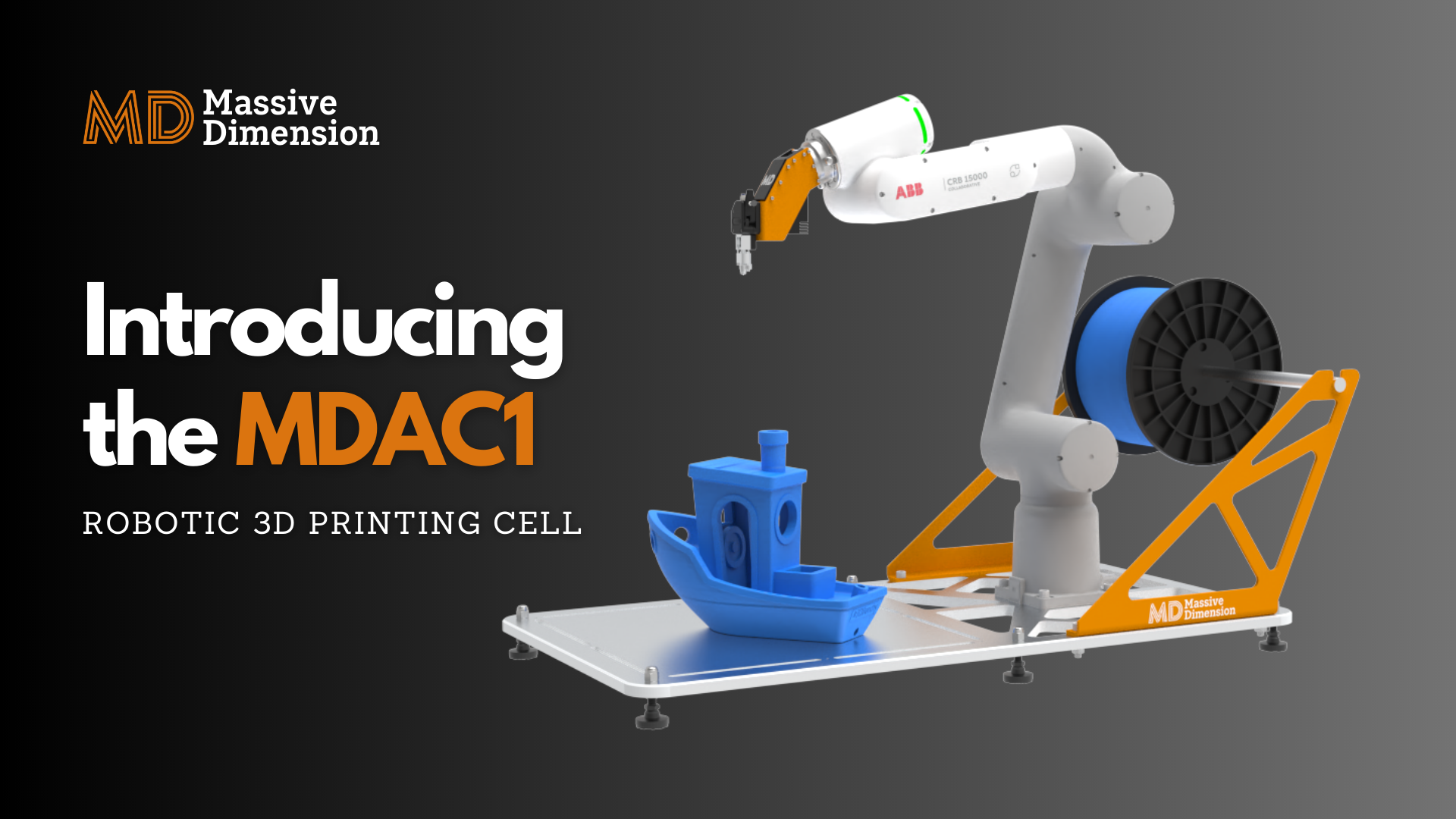 Welcome to the future of 3D printing! The MDAC1, the latest robotic 3D printing cell from Massive Dimension, is here to revolutionize your printing game. With this incredible machine, you can create objects that go beyond the conventional horizontal printing process. Print on angled surfaces, create non-planar and multi-planar designs, clad surfaces, and bring your ideas to life like never before!

The MDAC1 is built on a sturdy protective frame that makes it easy to mount on a tabletop or industrial cart, making it ideal for any environment. Plus it features the impressive GoFa CRB 15000 robot from ABB, which boasts integrated torque sensors in each of its six joints. This means you get superior power and performance, with added safety measures to ensure the robot stops immediately if it senses any contact with an object.  Paired with ABB's printing software, RobotStudio, users can go from CAD model to toolpath in just thirty minutes or less. Additionally, this system can use advanced robotic slicers such as AdaOne from Adaxis.

With a 21.5in x 21.5in x 20in build volume, heated build surface, and all-metal hot-end with a 500°C temperature rating, you can print anything you can imagine with the entire range of thermoplastics. It can use any 1.75mm filament, including high-performance engineered polymers, and comes with 1kg of PLA filament, making it easy to get started right away. The MDAC1 can run on commonly available single-phase power.

The MDAC1 is the perfect solution for anyone who wants to take their 3D printing game to the next level. Whether you're a beginner or an expert, at a university or in production mode, this machine is easy to use and offers unparalleled printing capabilities. So don't wait - start bringing your ideas to life and take your printing experience to the next level with the MDAC1.
---
2 comments
---
---