Massive Dimension Presents
Turn-key Robotic 3D Printing Cells
At Massive Dimension, we offer turn-key customizable robotic 3D printing cells for large-format additive manufacturing applications. These cells feature six-axis industrial robotic arms from ABB, a worldwide leader in robotics. These robots have precision accuracy and repeatability figures throughout the full range of their reach.
When coupled with the ABB 3D Printing Powerpac software, the printing workflow becomes comprehensible even for newcomers to additive manufacturing. Translate G-code from your preferred slicer into commands for your printing cell, run full process simulations, and upload prints to your controller, all within ABB RobotStudio, taking the guesswork out of proving out prints or prototyping.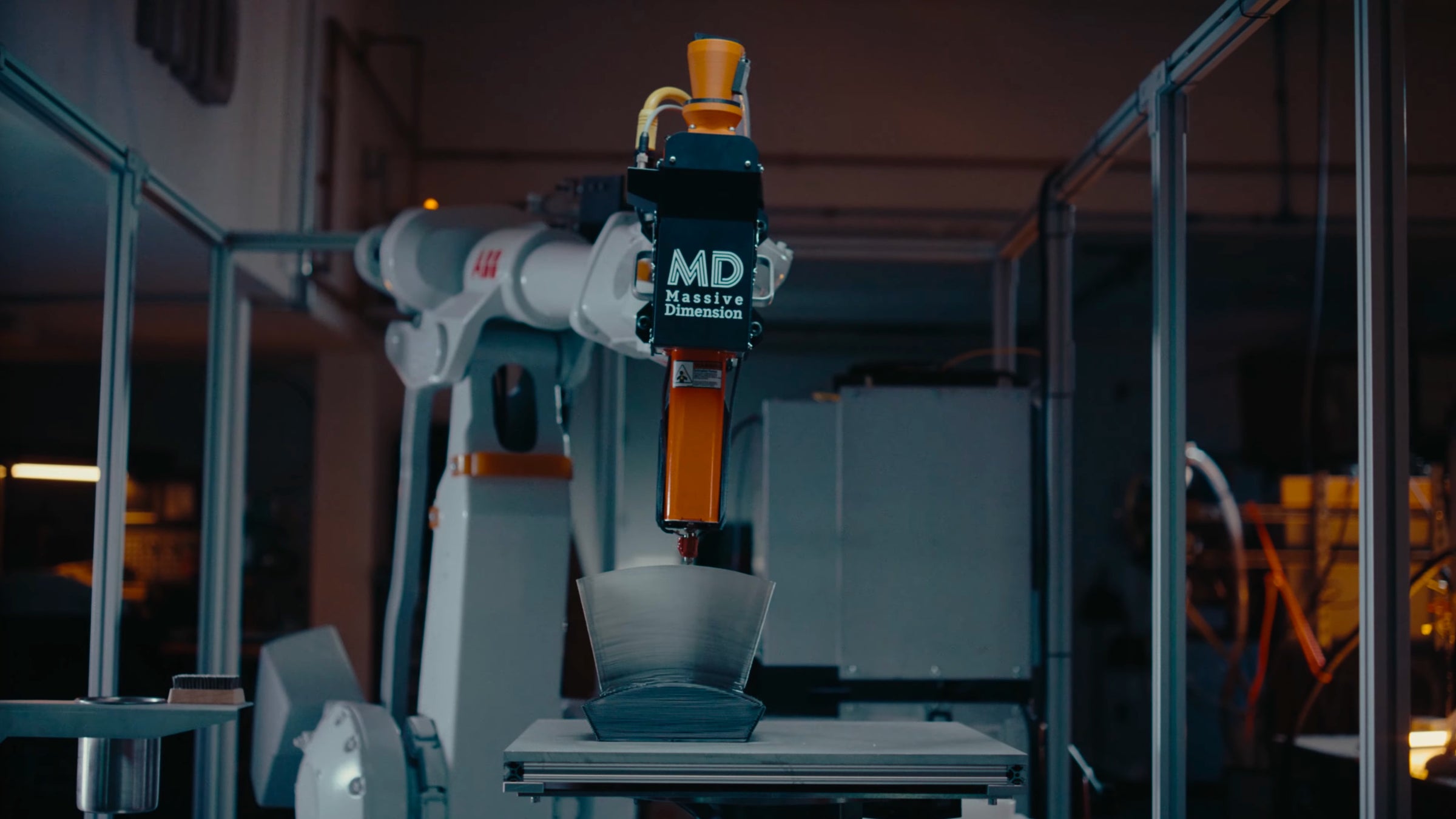 Massive Dimension
Extruder Heads
Our pellet extruders offer increased output for larger layer heights and widths, dramatically reducing overall print time on larger parts. MD extruders are compatible with a huge range of thermoplastic pellets, which offer significant economical advantages over utilizing filament feedstock.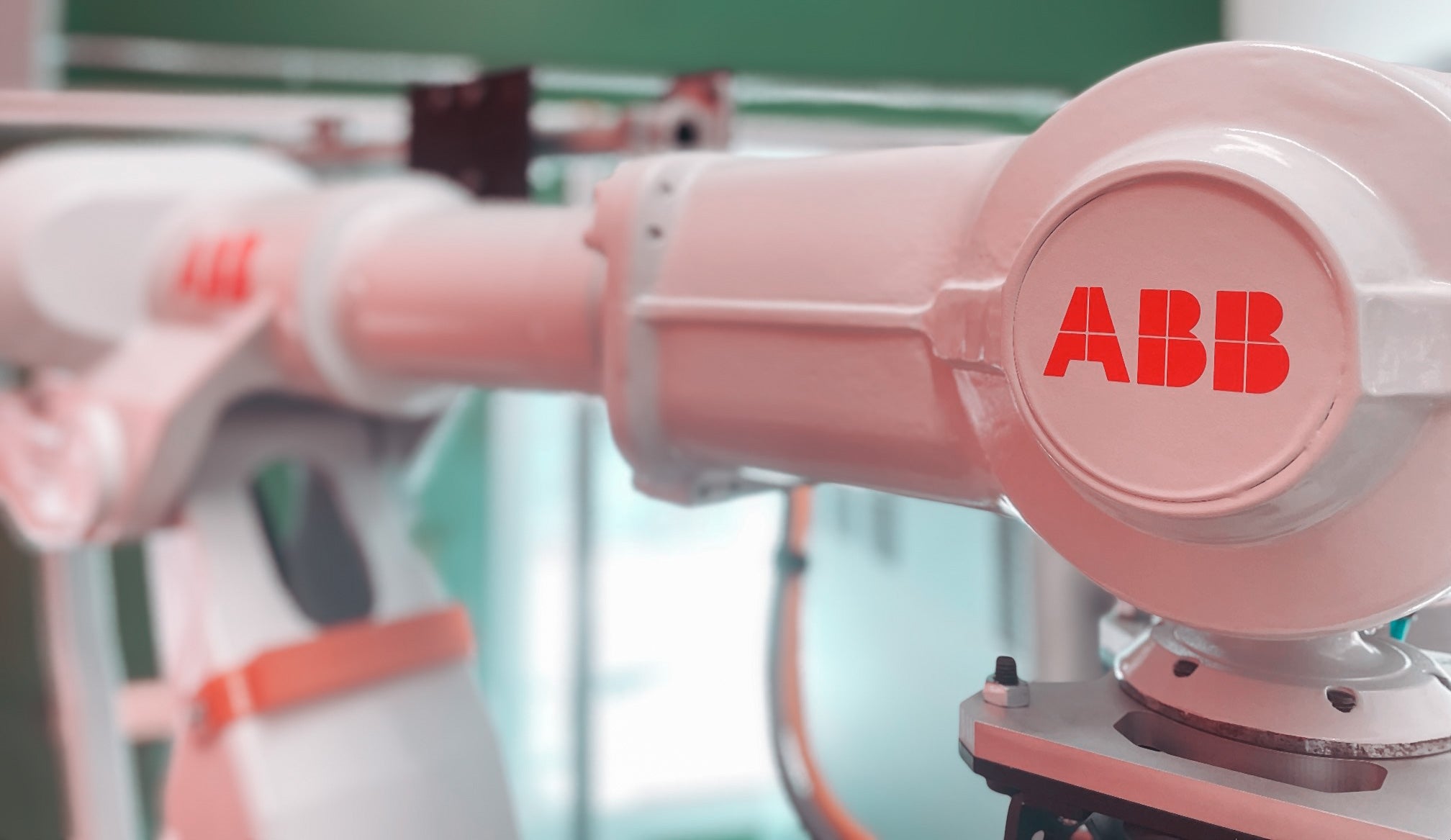 ABB
Robotic Arms
Featuring six-axis industrial robotic arms from ABB, a worldwide leader in the field. These robots have excellent accuracy and repeatability figures throughout the full range of their reach.
Robotic 3D Printing That Fits Your Needs
The extrusion equipment and supporting accessories from Massive Dimension are custom-tailored for robotic 3D printing and integrated into these additive manufacturing cells. Each cell includes all items needed for large-format printing, from the heated build plate to automated material conveyance. Cells can be customized with different process packages to fit your specific printing needs, and our engineering team can work with you to arrive at the configuration most complementary to your application.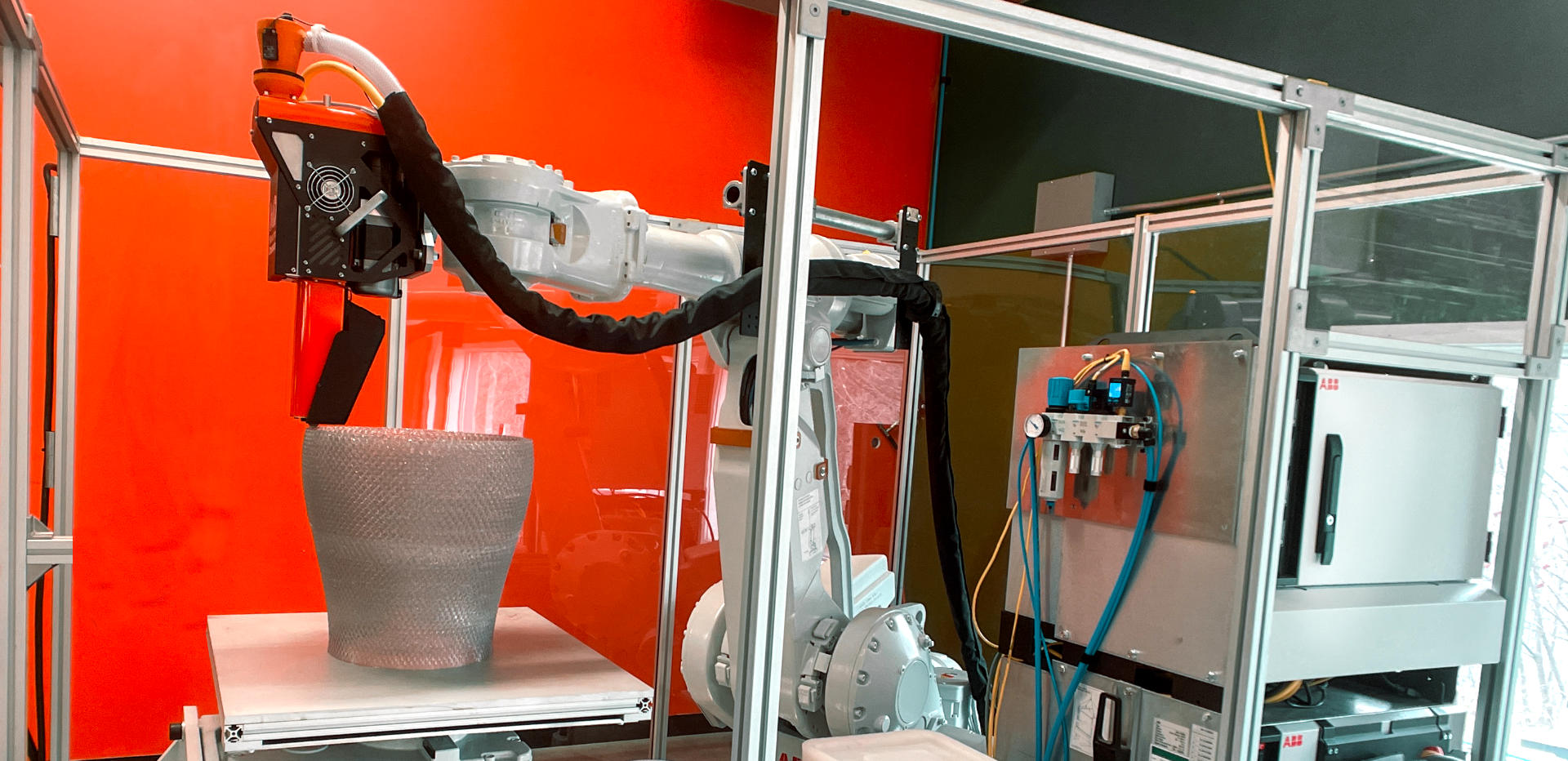 Let your imagination be your guide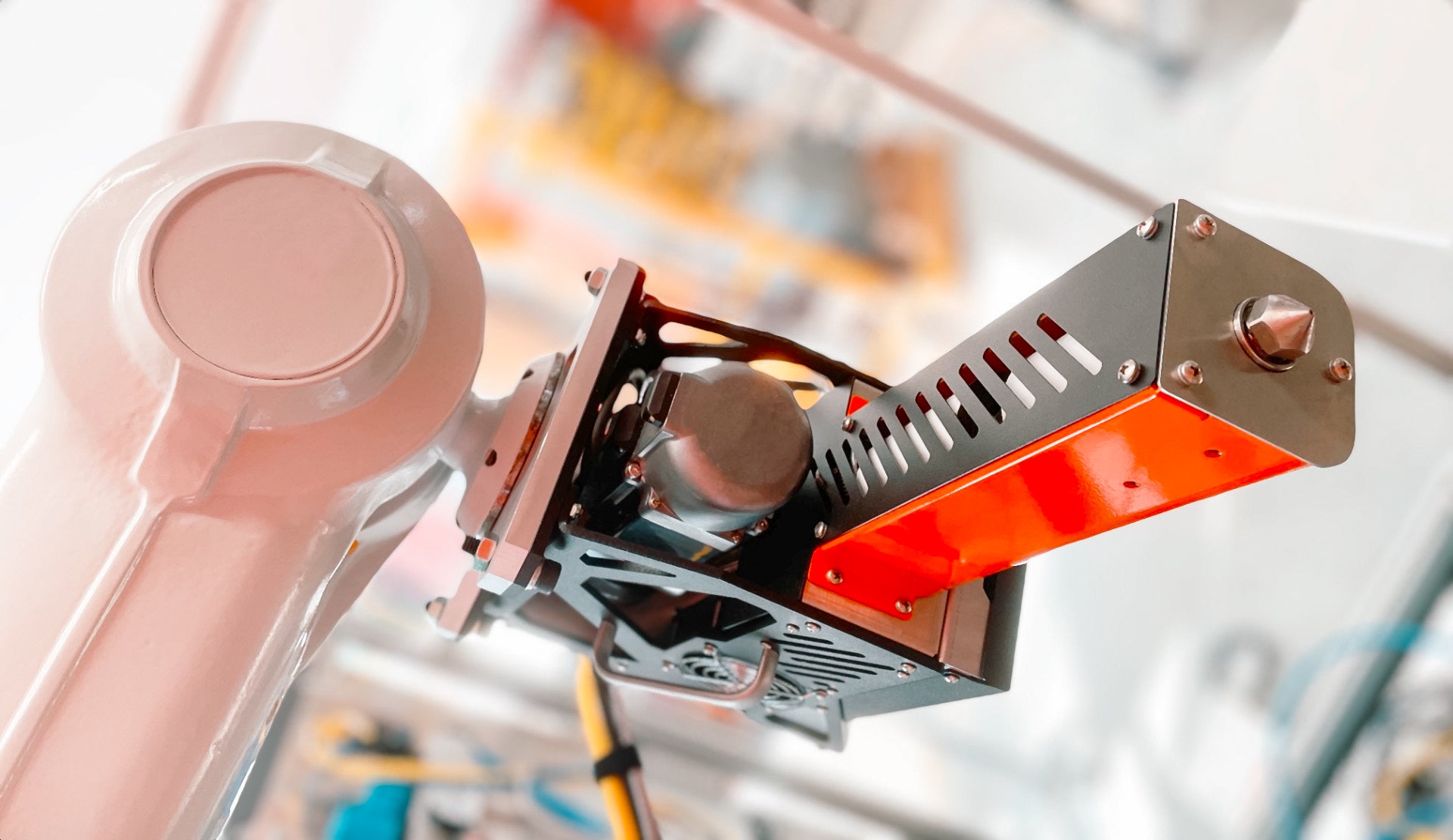 Massive Dimension Polymer Dispensing Heads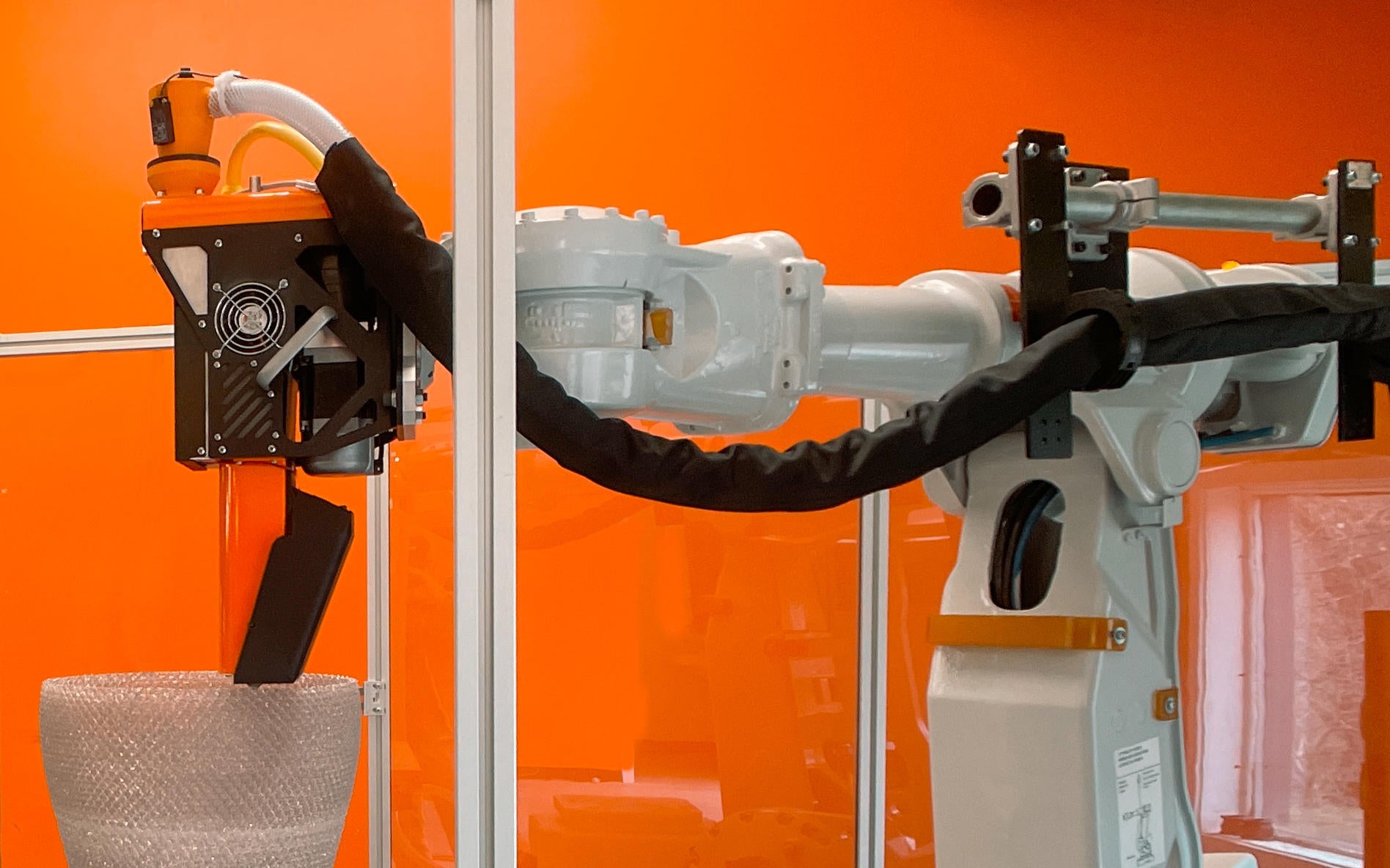 ABB IRB 2600 or IRB 4400 Robotic Arms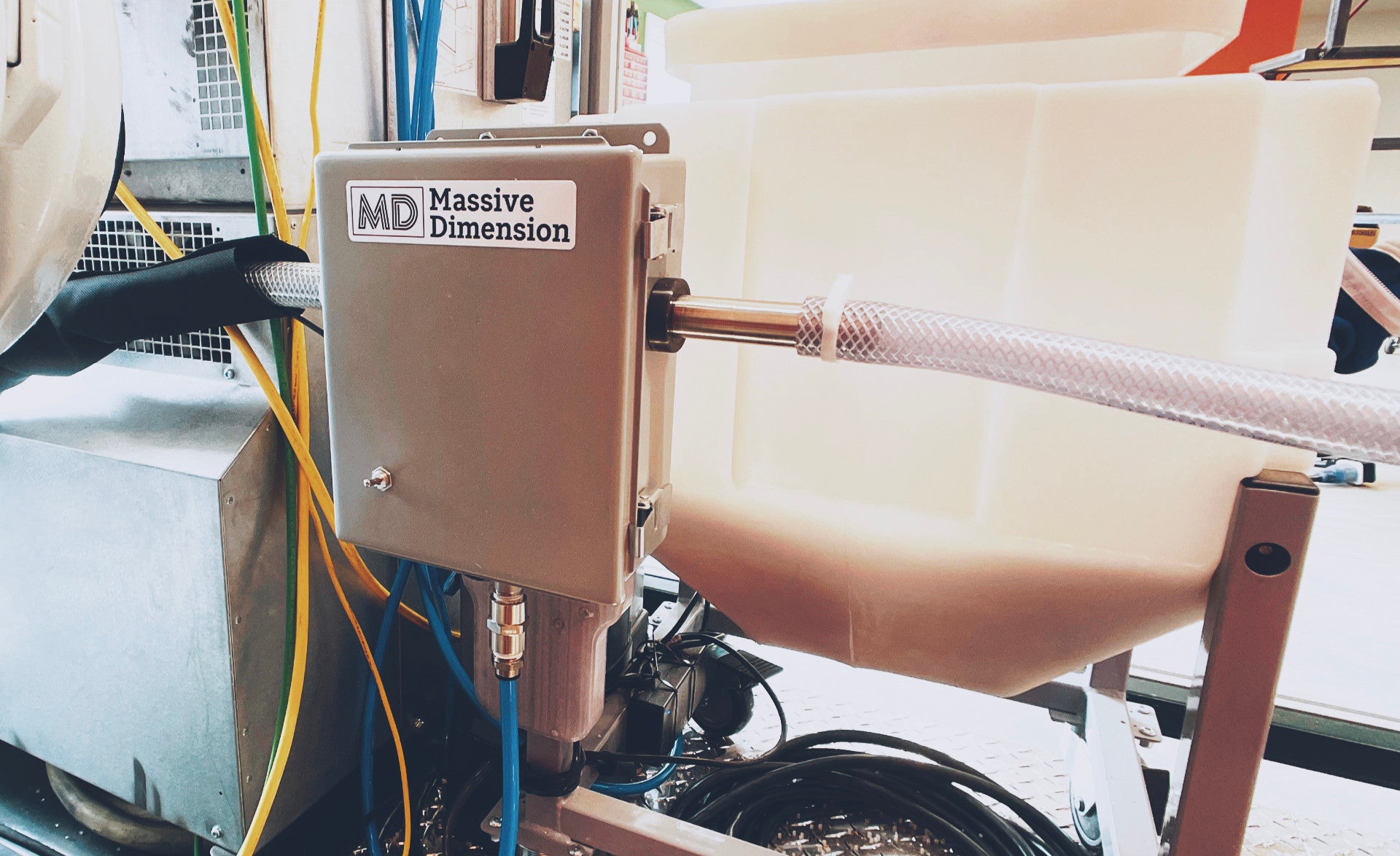 Massive Dimension Material Conveyance unit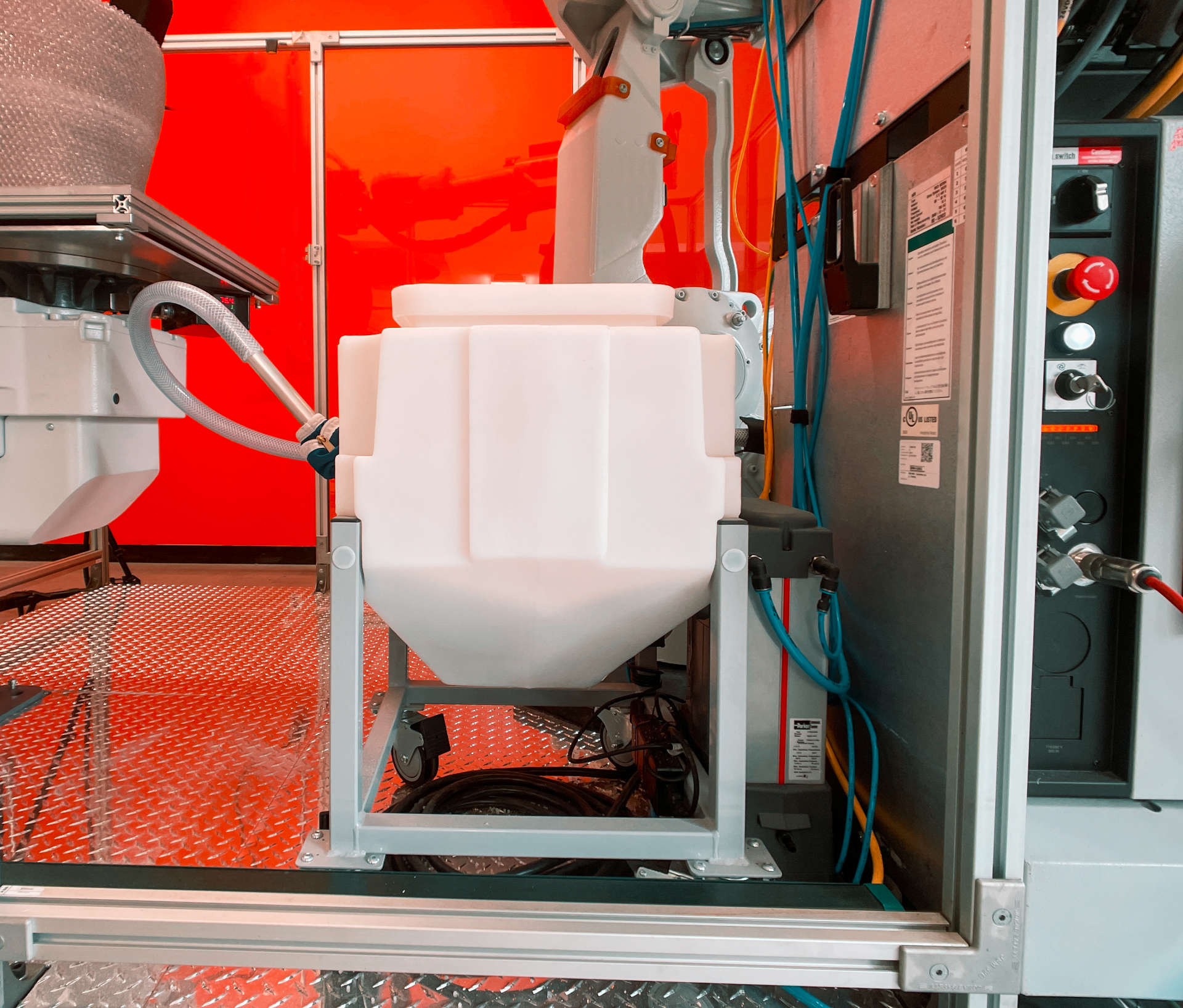 Massive Dimension Bulk Pellet Storage Bin
Training Services
A crucial aspect of the concept of the turn-key additive manufacturing cell is education. Available for purchase are training services from Massive Dimension and ABB to get you acquainted with your printer, ensuring your operators are well-equipped to begin producing parts without significant downtime or undue print failures. These training services include an overview course on all aspects of the printing process, including slicer software, polymer extrusion, RAPID programming, extruder maintenance, and more!
Our partnership with ABB supplements our own extensive knowledge of extrusion technology built from over a decade in the industry, guaranteeing that you will have access to world-class support for products that meet the demands of large-format printing. Are you ready to print the next big thing? 
FEATURES
ABB Robots
IRB 2600 or IRB 4400, custom options available
Massive Dimension Extruders
MDPH2, MDPE10, or MDPE50
Material Storage, Material Conveyance, and Heated Build Surface
Safety Panels and Access Controls
Software
RobotStudio, 3D Printing Powerpac
BENEFITS
Large Format Printing
3 ft wide x 5 ft long x 5 ft tall
Fast Build Rates
2 lbs, 10 lbs, or 50 lbs per hour output
Cell setups to fit your application
Intuitive software is easy to learn
Pellet feedstock is economical and features a broader range of thermoplastics vs. filament
See What our Clients have to Say
★★★★★

"Thanks to the considered design of Massive Dimensions extruders we can print parts in a wide range of materials, including up to 400°C, effortlessly and successfully."
★★★★★

"We purchased an MDPH02 to convert an already existing industrial filament machine. They came to install it and did a wonderful job. Like most projects of the sort there were some unexpected issues but they made quick work of them and left us with a functioning pellet extruder on a previously filament based machine. Their product is well designed, well made and looks great on our machine!"
★★★★★

"There is a very distinctive design language and quality of construction across all Massive Dimension parts. This combined with the fact that all these components are compatible with each other is a big selling point."