New Product Announcement: Fumex Fume Extractor FA1-E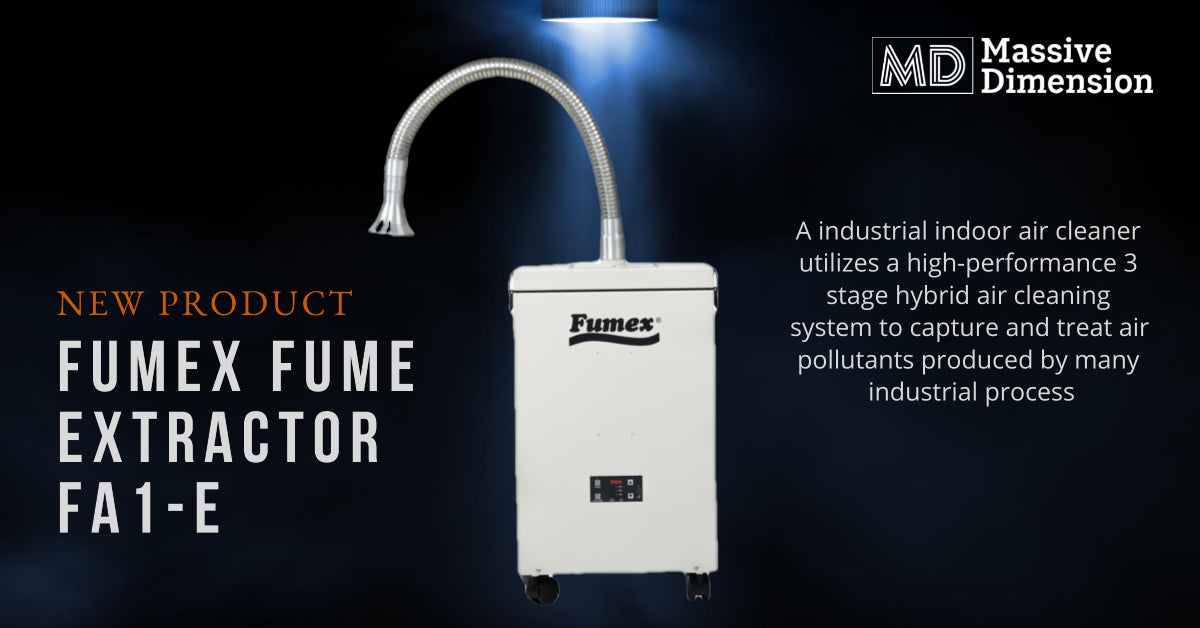 We are pleased to announce we've partnered with Fumex to provide air filtration systems specifically engineered with extrusion in mind. We are always thinking of ways to make it easier for our customers while working with our machines to stay safe. We believe that VOCs (volatile organic compounds) produced during additive manufacturing have not been adequately studied to date.  We feel that the potential health risks deserve a closer look since there is not enough education provided to small-scale producers and hobbyist 3D printing enthusiasts on this topic. We are working towards creating our own body of independent research into what VOCs are produced by different polymers under different printing conditions, in lieu of current reliable external sources with adequate transparency from manufacturers or suppliers. 
It has not been determined what is considered "safe" and what may pose a potential health risk in terms of VOCs. We are watching closely as the U.S. EPA and other government agencies and scientists initiate studies in this area, but such studies are only in the beginning stages. Therefore, in the meantime, as a company, we recently decided to be proactive and put additional safeguards in place within our own research lab. This is what led us to begin using the Fumex air filtration system ourselves within our own working environment.  We believe it reduces our own risk when working with our machines in the lab. You could say we'd rather be safe than sorry! We have found that the line of Fumex filtration systems works well in our lab as portable devices that can be adapted quickly to the ever-changing environment presented by our research and development needs. The articulated hose on the extractor makes it easy to effectively capture fumes at the point of extrusion as filament is created. Even with the blower motor running at full speed the unit is not unreasonably loud to work around. 
You can find our webstore listing for the Fume FA1-E here. We look forward to sharing additional findings with you as we continue to try to deepen our understanding of how to safely work with new materials being created for additive manufacturing. We've sent materials out to laboratories for analysis, and sourced machines with sensors that can monitor the air for VOC content during extrusion- so keep an eye out for future blog posts on the subject!  In the meantime, if you have any sources for independent research on the subject that you think are worth sharing, please let us know! 
We think it is also important to note that if you use feedstock materials including pellets in our extruders that are obtained from outside sources or suppliers other than our Company, you may want to verify the chemical composition of such materials, since they may vary, which may also affect the degree of impact of VOCs when running our machines.  We cannot at this time speak to those materials and this certainly presents a challenge for us as a company, or for any governmental body or scientists in performing studies when materials inputted may vary.  At this time, we can only speak to and verify the source materials, for example, for the rPETG or LX175 pellets that our company provides and sells in our webstore.
---